Gluten Free Baking 101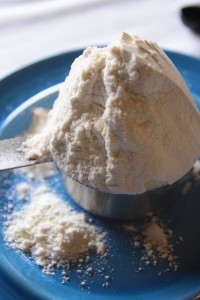 You can't use wheat flour anymore. Now what? Knowing how to combine gluten free ingredients is the secret to replacing wheat flour in your recipes. Gluten free flours typically need to be combined to reproduce the properties of wheat flour, with a binding agent added to hold the gluten free stuff together.
There are lots of pre-mixed flour blends available on the market for gluten free baking. Just one note of caution before you buy – make sure there are recipes to go with the flour you choose. Otherwise you will be experimenting and possibly wasting flour and money.
If you're not into experimenting, we've already done the work. In our gluten free all purpose flour we combine brown rice flour, white rice flour, potato starch, tapioca starch, sweet rice flour, chickpea flour and xanthan gum.
Why so many ingredients in one flour blend? Unlike some gluten free flour blends, our flour can be used for multiple applications. With our expert advice you can bake cakes, cookies, pies and breads; one flour for everything you bake and the recipes to go with it.
Want to read the book but don't own a Kindle? No problem! There's a FREE Reading App for that.
Four more ways to get our recipes
Follow our Facebook Page.
Follow us on Pinterest.
Follow our Blog.
Next up: Not sure where to get gluten free ingredients for your baking? We can help with that in GF Suppliers.
Do you have trouble with other ingredients? We cover baking for other allergies in Substitutions.
Save