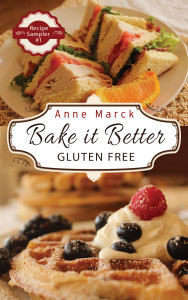 "Bake It Better Gluten Free Sampler #1: Learn How to Bake Gluten Free Pizza, Cakes, Cookies and More Using Gluten Free All Purpose Flour and Get Comfort Foods Back on Your Menu"
In Sampler #1 you will learn how to bake gluten free breads, pizza crust, cookies, cakes, and more…foods you thought you couldn't have on your gluten free diet! Using a gluten free all purpose flour and simple, easy to follow instructions, you can get baked goodies back on your menu. Gluten free foods that taste real. The all purpose flour is versatile, economical, and easy to prepare. Plus it can be used to convert your own favorite recipes to gluten free using the instructions provided. Full of beautiful, mouth-watering photographs, step-by-step instructions, plus special "Cook's Notes" with extra tips and tricks for success. This is gluten free baking at its best and you're going to love it!
Want to read the book but don't own a Kindle? No problem! There's a FREE Reading App for that.
FREE E-BOOKS:

"Gluten Free Baking 101: How to Make and Use Gluten Free All Purpose Flour" –  This 22 page FREE PDF includes our Gluten Free All Purpose Recipe and five starter recipes (including pictures!) using the flour. You'll also learn the best tips and tricks for successful gluten free baking and how to convert your own recipes to gluten free. This is a great way to start learning the art of gluten free baking!
"How to Go Gluten Free Without Going Broke or Living in the Kitchen: A Beginner's Guide" – This 70 page FREE PDF includes everything you need to know to start your gluten free diet. Includes a one week menu, recipes and shopping list. You'll also learn how to read labels, shop, eat out and survive the gluten free lifestyle. With worksheets to help you get started, plus twenty-two delicious and economical gluten free recipes, this is a must for all gluten free foodies!
What the experts say about "How To Go Gluten Free….."
"I use 'How to Go Gluten Free' for my patients who are both newly diagnosed celiac and for patients that I am encouraging to go gluten free for other reasons such as skin disorders and inflammation.  The guide is simple, straightforward advice on eating gluten free on a budget for those who have very limited cooking experience.  I highly recommend this as a starting place for switching to a gluten free lifestyle.  I will be encouraging my patients to watch for future projects by this author."
~ Jeanette Walker, M.D., functional medicine, family physician
 LIKE US ON FACEBOOK
Follow us on Facebook for more delicious gluten free recipes and tips on the gluten free lifestyle.
Save
Save
Save
Save
Save
Save
Save
Save
Save
Save
Save
Save
Save
Save