Foods That Are Gluten Free
We aren't doctors or dietitians and can't give you dietary advice, so if you haven't already, please read our Disclaimer.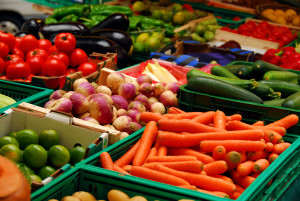 If you've done your homework and read everything in the Beginner's Guide, you know what to avoid on your gluten free diet. But what can you eat? Lots of stuff! There are many foods that are naturally gluten free. Stick with foods in their natural state and you're half way there already; unprocessed fruits, vegetables, meats, eggs and dairy products, beans, nuts and seeds. Non-gluten grains are also on this list including rice, quinoa, millet and corn, among others. You can also purchase gluten free breads, crackers, and pasta. When you do use products that are manufactured, be sure you know how to Read Labels (click and scroll down the page to "Reading Food Labels") and know how to decipher whether or not a product contains gluten.
Foods made from grain require the most caution. Nothing made from gluten containing grains (wheat, barley, rye, triticale) should be consumed on a gluten free diet. Here's where we can help the most! We're experts at Baking with gluten free flours and starches.
What grains and starches are gluten free?
There are many gluten free grains and baking ingredients that could potentially be used on a gluten free diet. They include but are not limited to; amaranth, arrowroot, buckwheat (this is a grass), chickpea (aka garbanzo) bean flour, corn, flaxseed, nut, bean, and seed flours, fava and soy bean flour, almond flour, coconut flour, millet, Montina™, potato flour, potato starch, quinoa, rice bran, rice flour including brown, white, sweet, and sticky, sago, sorghum flour, and teff. Gums that hold these ingredients together include xanthan and guar gums.
None of these flours work well as a stand alone. Gluten free flours work best when combined. We use brown rice flour, white rice flour, potato starch, tapioca starch, sweet rice flour, chickpea (aka garbanzo) flour and xanthan gum in our recipe for gluten free all purpose flour. This flour blend can be used to replaces the wheat flour in baking recipes.
Next up: More valuable support for your gluten free diet including shopping advice, phone apps, and celiac organizations in GF Resources.
Save
Save